Words Words Words -
Our children need to be exposed to more vocabularly. How many times do you feel that you use the same words and that there must be a word that would fit better? We have investigated many tools and research which other schools have used and it is clear that Mrs Wordsmith is the right resource for our school. Their ethos is based on research. Please see a summary of their journey below.
Quote from Mrs Wordsmith -
Our team of experts led by lexicographer Ian Brookes have used data science and corpus linguistic techniques to identify 10,000 words that make a real difference to children's academic success – and which can rapidly accelerate your child's literacy level.

So, how did Ian and the team arrive at 10,000? Let's crunch the numbers.

1 million → 42,000:

The English language is mind-bogglingly vast. The Global Language Monitor claimed that English acquired its one-millionth word in 2009, and continues to acquire new words at the rate of one every 98 minutes.[1]
However, this figure counts everything that could possibly be considered as a word, including lots of one-off inventions and obscure coinages that would not be understood by many people.

Most words, furthermore, are variations on a core of 42,000 'root words'.[2] For example, the word 'happy' has numerous related forms: 'happily', 'happiness', 'happier', and so on. Learning just one variation of these root words provides a base for acquiring all the others.

42,000 → 37,000:

Not all root words are equal, however. Some, like 'happy', are so common that children don't need to consciously study them – they'll learn them anyway. We used data science to identify 5,000 of these 'easy' words, and removed them from our list.
37,000 → 10,000:
27,000 root words, though, are obscure words that most of us manage very well without unless we are scientists, academics, crossword enthusiasts, or Scrabble players. English is full of technical or old-fashioned words that children are unlikely to ever encounter, let alone be expected to use, by the age of 17. Words like 'sphygmomanometer',[3] or 'curglaff',[4] for example – discarded from our list,
The 10,000 words that matter:
That leaves us, then, with the 10,000 words that children really need to learn:
challenging words that develop children's comprehension, writing, and analytical skills, and enhance their achievement across the curriculum. These are the words that children will encounter in the best literature, and which make up our 10,000 Word Journey.

About Ian Brookes

Ian Brookes is Mrs Wordsmith's chief lexicographer. He is the former editor-inchief of The Chambers Dictionary and has led or contributed to the creation of over 50 dictionaries and reference books from Chambers, HarperCollins, and Oxford University Press.

With the research done we decided how this would have the most impact on the children, and it soon became clear that immersion was the way forward. We purchased dictionaries and picture books. If you want to see these then please go to www.uk.mrswordsmith.com
From the Spring term 2020 children in KS2 at Murrow Primary Academy will be learning new words every week. The words will be taught using the methods which have worked at another school in our trust. The words will be displayed in the classrooms. The words will be displayed around school and children will be encouraged to not only use these in their speech but also in their writing - that is how we will see the impact. The developers of Mrs Wordsmith have partnered with a team of award-winning Hollywood artists who transport these words into the progressive, culturally diverse, and technologically advanced world children now live in. Epic words, taught in an epic way, making smarter kids! All the words have associated actions that the children can personalise. This too helps memorising the words for future use.
As is the way at Murrow Primary Academy, we would ask that Parents and Carers support us with this. We acknowledge that the impact will be felt more if children are exposed to the words both at home and school.
Teachers will use some of the following techniques:-
Create a class list of words around topics or snynonyms of words

Put the word in a sentence

Actions that describe words

Opposite of words – antonyms

Use the word to start a story

Use the word during a conversation at break time.

Find the word in a book

What type of sentences would use this word?

Can you put it into a question?

What word family is it?

Investigate words in a book – look at a chapter – complete the word search table.
Children will be rewarded when they use the words and they will soon be able to see how by using their newly acquired vocabulary their writing becomes more interesting.
How can parents help?
1) Ask children which words they covered in Monday's assembly. All children will learn the first word on Monday morning. KS2 children - Class 3 and 4 will then also get two other words during the week. Class 2 and Zebras will just have the one word a week. Ask them the action that goes with the word.
2) Have a competition at home of who can use the words the most.
3) Check the words on Twitter weekly.
4) Inform the class teacher or Head Teacher if children do use the words at home. Email office@murrow.cambs.sch.uk (impact)
5) If you have an instagram account, follow Mrs Wordsmith for cartoons and further exposure to the world of Mrs Wordsmith. @mrswordsmithofficial
The words that we will cover in Spring are:-
Pot-bellied
Squat
Bloodshot
Suffocating
Dreary
Relentless
Nauseating
Insatiable
Moist
Feud
Ambush
Glimpse
Snubbed
Tenacious
Optimistic
Affluent
Imposing
rolling
We are all looking forward to hearing how this helps children and the impact that this has on the children at Murrow.
Boys Boys Boys!!!!
I attended a Conference in July 2019 where we heard Gary Wilson speak. He has done research into the attainment of boys. Here in Murrow, traditionally boys do not achieve the scores of girls in the formalised assessments processes. Boys do achieve, boys do learn, but in different ways to girls. Having read around the subject, it became clear that boys tend to respond to positive role models and also to a more active way of learning - this is not to say girls don't!
Based on my reading, I decided to host our first FUDGE day - Friends, Uncles, Dads, Grandads and Everyone day. I invited Fenland Bushcraft to host a day for Fathers and children.
https://www.fenlandbushcraft.co.uk
The day was planned - den building, whittling of sticks, fire building, marshmallow cooking and eating. The time was spent learning but also playing together. The children listened and played whilst their dads, grandads, uncles etc also enjoyed themselves.
The impact will be greater confidence of Dads to engage with learning, greater bonds with their children, children will also grow in confidence with what they achieved. Feedback forms are coming in and I cannot wait to hear some impact stories which the parents are getting good at providing.
Well thought it would be good to update you on where we are with reading.
Reading is happening - reading for pleasure - children choosing to read texts that interest them, comics and newspapers that have been bought are encouraging reading. Bunny the school dog has been in on numerous occasions - once a week - and she is hearing readers. She just lies there while the children read to her. Parent feedback has shown that children are loving this. It has also meant that Headteacher I have been able to hear every child read and this has enriched my understanding of where we are with our reading. Plans are afoot to role out Accelerated Reader as a way of assessing the children in KS2. We have also grown our sets of guided reading texts and the library now is a focussed resource for our teachers. Our little EYFS Zebras are taking part in their reading race and being rewarded with stickers. Parents - thank you for your encouragement of reading.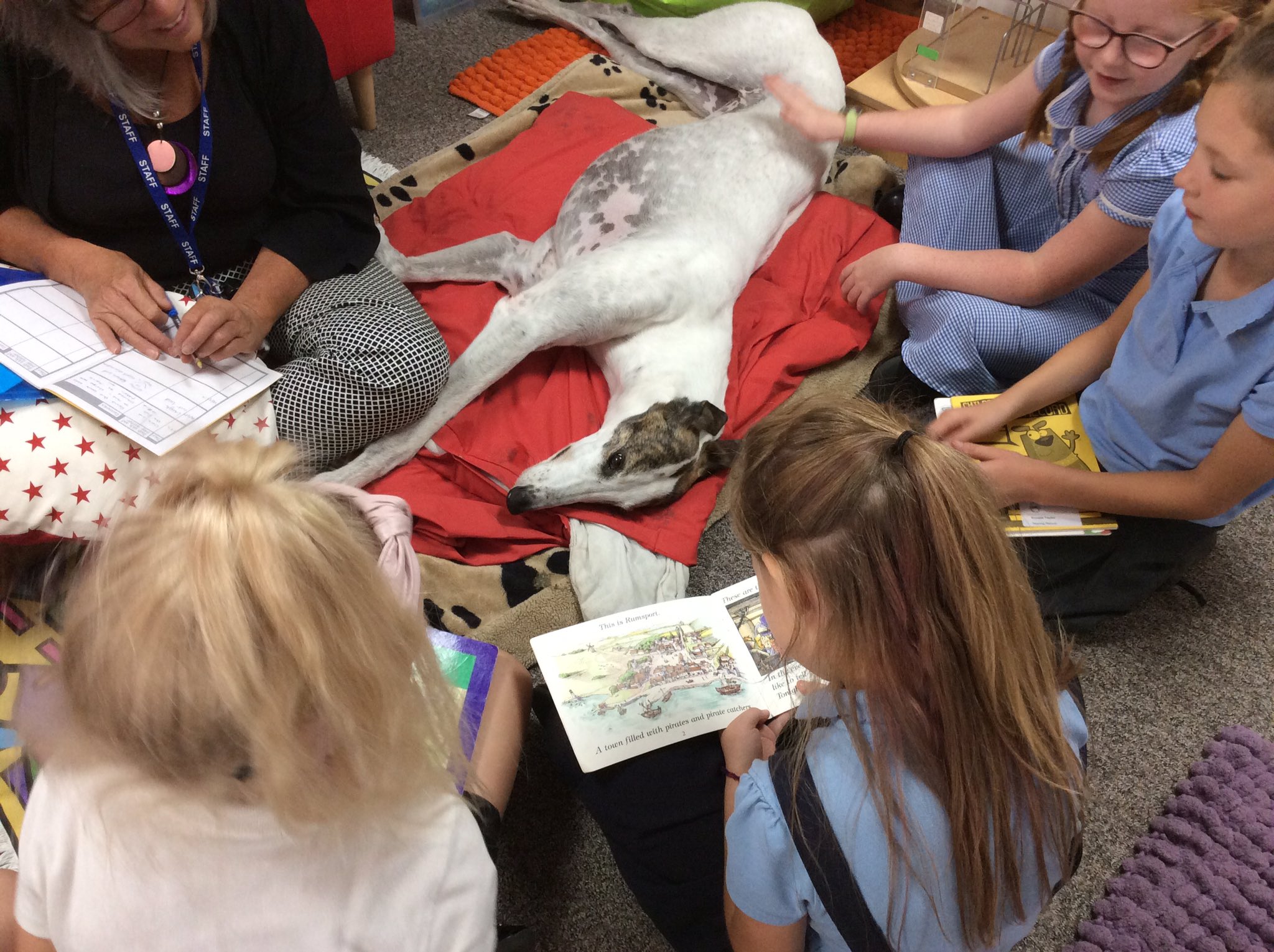 Never done a blog before - but wanted to add something more to what we offer parents.
Reading makes the world go round....
If you can read then you will be OK in life. Reading is a skill that is key to the future of our children. Parents and School need to be working very closely together to ensure that we help our children with this. From Zebras we start teaching phonics, but it is much more than just the semantics of phonics. We want children to love reading, we want children to love books. Stories add to life experiences, stories add dimensions to our imaginations and we need to be enabling this. Children should become hooked on reading, they should want to read, they should derive pleasure from reading.
The partnership needs to work with both partners focussed on ENTHUSING children with books.
At School we will be
Introducing our new library - Purchasing new and exciting books - Publishing book reviews - Having a book of the week - Teachers will read and share books with children - A focus text will support our topics.
At home please could you try
Sharing a book at least once a week - Bed time story - Telling stories on the way to school - Trips to the library - Buying a special book for birthdays and Christmas - Share the newspaper - Make books special. To try to help I attach some pictures which are the winners of the Teach Primary Book awards - some ideas for stocking fillers at Christmas.